About Us
Welcome to VanArnam Vineyards
We are located in the beautiful Yakima Valley at:
1305 Gilbert Rd
Zillah, WA 98953
ph: 360-904-4800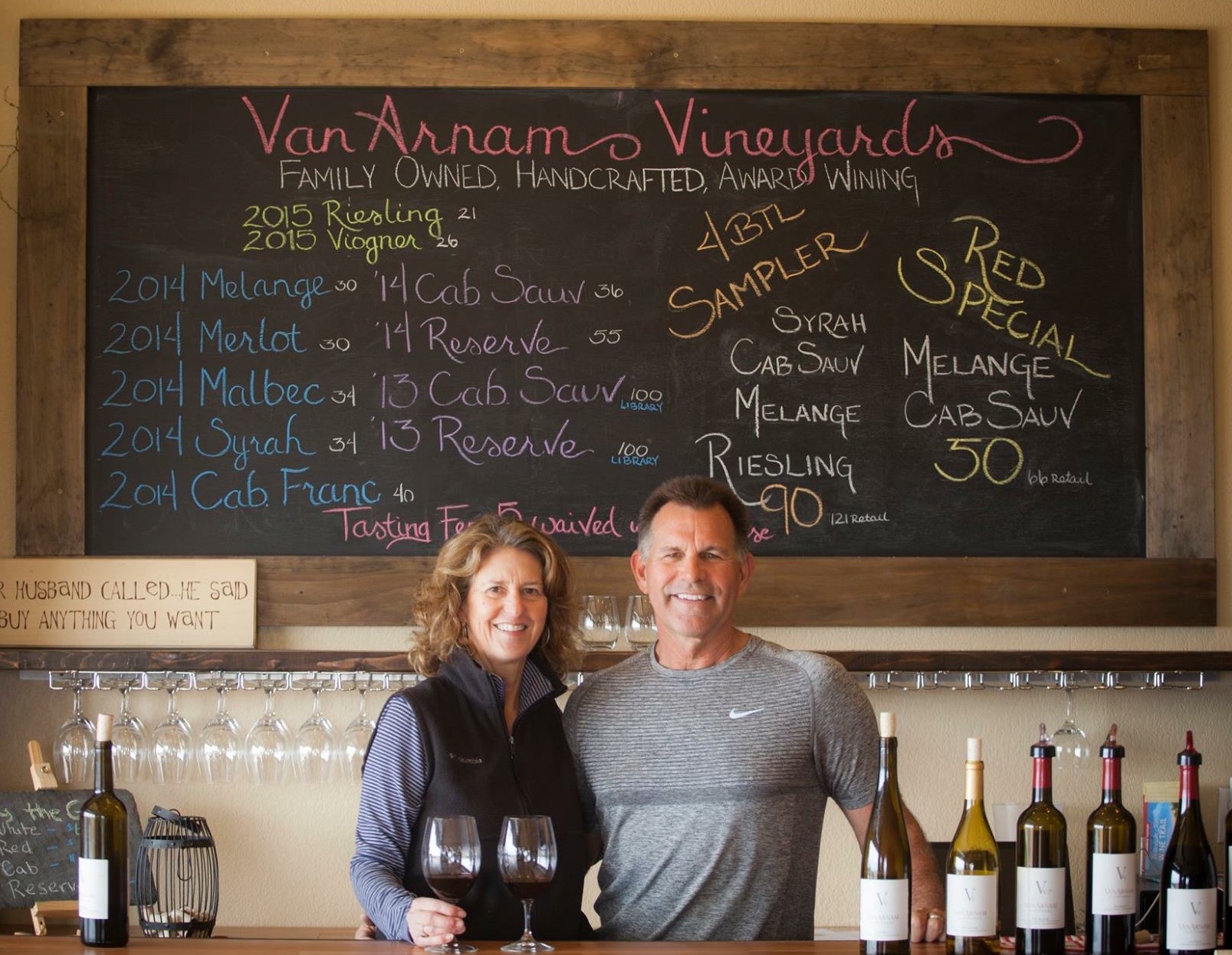 Over the years we, Kent and Allison VanArnam, have been asked many times about how we got started with our dream-come-true creation of vineyards and a winery. In 2007, with an idea of looking for the perfect place to grow fabulous wine grapes, we found the perfect spot in Zillah - 40 acres of fruit orchards with plenty of water and sun. Kent and his trusty tractor took out over 6,500 fruit trees and prepared the soil for grapes. With the help of family and friends, we planted our first Cabernet Sauvignon vineyard. Soon after we built our first building for wine tasting and production. Since that time, we have designed and created a production building, outdoor courtyard, 1 acre lawn with concert stage, more vineyards, grill restaurant, rental cottage, several outbuildings, our home and we are definitely not finished. We have many more ideas so keep coming to visit to see what we will create next. All of the design and most of the work is done by us following our love and passion for delicious wine and an experience of the Yakima Valley.
We focus on making the highest quality wines. Our size allows us to be hands-on every step of the way from nurturing our vineyards, picking the grapes at harvest and through all the wine making in the winery. We are located in Zillah which is in the Yakima Valley of Washington - the leading wine region in Washington State. Our vineyards grow on a southern slope of perfect soils for premium wine grapes. The winery rests on the top of a hill overlooking the vineyard and the Yakima Valley with views of both Mt Adams and Mt Rainer. We think our grapes like the views as much as we do

.
Tasting room address is 1305 Gilbert Road Zillah, WA 98953. Please see our contact page for a map and directions.

Great news for those or you that follow wine ratings and awards. Recently our 2013 Reserve Cabernet Sauvignon and our 2013 Cabernet Sauvignon earned first and second place awards in the annual SIP Northwest wine completion in Seattle – over 500 wineries submitted wines. Our Melange received a 91 rating in Wine Spectator and all of our wines earned medals at both the American Wine Society Awards as well as the SanFrancisco Chronicle Wine Competition!

Our wines can also be ordered for shipment. Simply use this link.

Team Work makes the Dream Work
Over the years, we have assembled a team of passionate, energetic folks that share our passion for the wine tasting experience. We'd love to introduce them to you.
Owner
Allison VanArnam
Kent and I have been married since 1988 with 2 amazing children, Paige and Max. Things I love are sharing a meal and wine with friends, yoga, running, hiking, growing things, flowers, veggies and of course, grapes. My life dream is to create a special place in Zillah where friends, family and future grandchildren can come and spend some time together. Kent and I love to travel and discover new places. Favorites activities include hanging out on tropical beaches, scuba diving and getting lost in an old European city and finding the local wine bar. Moorea and Tuscany are my favorites so far. I was an Information Technology major from Chico State with a career as a computer consultant until I changed to mom which I love more than anything.
My favorite thing about VanArnam Vineyards is chatting with all the great people that come into the tasting room.
Owner
Kent VanArnam
My background is in marketing and sales. I have always loved to design, build and create and have spent my weekends for years builidng cabins, remodeling houses and now creating a winery. Allison says I am an endless source of ideas and I look forward to developing out our property in the future.
Our Winemaker
Branden Seymour
Branden's Bio
I was raised here in the Yakima Valley and attended Central Washington University where I focused on Global Wine Studies and business management education.
In 2017, I was able to come back to my home town of Zillah and start my winemaking career with Vanarnam Vineyards. In the years since, I've been able to put my own roots down to grow my family and venture into cherry farming. Music has always been a big part of my life and I play everything from guitar to trumpet. I also love being outdoors and am always working on something. Whether it's construction, car or farming projects, or just being adventurous, there's always something going on. My family will tell you they knew I would end up in wine as I was 5 when I told a teacher that Winny the Pooh likes Cabernet because it has a fruity nose. I hope to live my life creating and enjoying amazing wine, music, and adventures for many years to come.
If Branden is not in the production building make the wine magic happen, he can be found on the tractor or helping with some new construction. We are grateful for Branden's many skills and can-do attitude.
Tin Roof Grill Manager, Chef and Catering Manager
Kaela Valcich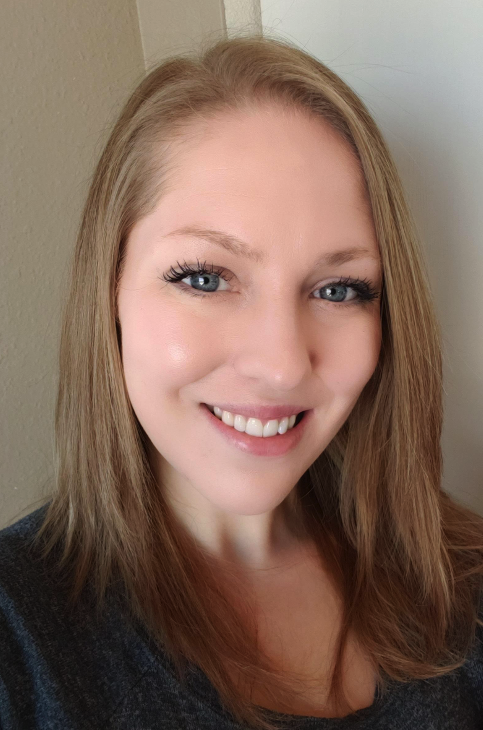 Kaela's Bio
I was born and raised here in the lower Yakima Valley and am grateful to have the opportunity for Branden and I to raise our own family here as well.
I'm a self and family taught chef who loves everything about food. I enjoy discovering new dishes and brews from all over the world and sharing them with our family and friends, the Vanarnam Vineyard's customers included.
My life dream is to one day create a farm to table restaurant here in Zillah where everyone feels welcome with a place at the table.
Summer evenings at VanArnam Vineyards is my absolute favorite. With sweeping views of the valley, amazing sunsets, and wine just as great, everything I've grown to love about the Yakima Valley is right on the patio.

Fun fact: I was a certified nursing assistant for 5 years before taking a chance on a drastic career change to food.
Kaela is the inspiration behind our food service. We opened the Tin Roof Grill in 2019 and she has managed it with creativity and passion. When she is not making magic with food, she is chatting with customers in the tasting room or helping Branden with cellar work. Branden and Kaela have 2 adorable daughters.
Tasting room associate, Tin Roof Grill assistant
Noelle Cook
Noelle's Bio
I'm a born and raised Northern California Girl with a strong passion for wine, food and sunshine. After a long career in Real Estate, I decided, or the real estate crash decided, that I need to redirect my career. Growing up in the bay area, I loved Napa Valley wine so why not get into the wine business? I started by selling wine for Cameron Hughes out of San Francisco and from there went on to sell wine for Southern Wine and Spirits with a portfolio from over a 100 wineries in the Napa Valley and the world. My husband Paul's career led us away from California to Yakima, WA in 2014. So our new journey began with 3 beautiful daughters and a car full of fur babies. I didn't think this wine snob from Napa could do it but I did….I fell in love with Washington wine. As a foodie there is nothing that I love more than pairing amazing dishes with the best wine that the world and Yakima valley has to offer.
Noelle joined our wine club years ago when she fell in love with our wine. Then at the perfect time, she asked if we were looking for helpers as she loves wine and food and wanted something fun to do. She fit right in with her positive spirit. Noelle helps in many areas including sharing her love of wine in the tasting room, preparing food in the Tin Roof Grill and communicating with our club members.